Party di lancio del Napoleon (2)
Vi offro una pausa leggera tra le
recensioni-mattone
dei dieci libri dello
Stanley Kubrick's Napoleon
proponendovi il
comunicato stampa rilasciato dalla Taschen
a seguito del party di lancio a Childwickbury.
On the night of December 8, 2009, we celebrated the launch of Stanley Kubrick's Napoleon: The Greatest Movie Never Made at a very special drinks party at Childwickbury House, the Kubrick family home outside London. We felt extremely priviliged to offer our guests access to the very epicenter of Kubrick's life and work.
Jan Harlan, producer of many Kubrick films, Stanley Kubrick's widow Christiane Kubrick, editor Alison Castle and M/M Designers welcomed guests to the event and gave lots of background information about the making of the book. Our partners for the event, the British Film Institute, Empire Magazine, one of the leading industry papers, as well as the University of the Arts, which holds the Kubrick Archives, contributed with their VIP guest lists to form an eclectic crowd of diehard film buffs.
The event attracted huge interest and was attended by British film director Stephen Frears, Turner Prize winning artist Mark Wallinger, artists Jane and Louise Wilson and journalists from national newspapers the Sunday Times Culture, Sunday Times Style, The Observer, The Guardian, The Independent and Independent on Sunday, style press including Dazed and Confused and i-D magazine.
A very heart-felt thank you to Christiane Kubrick and Jan Harlan for their hospitality!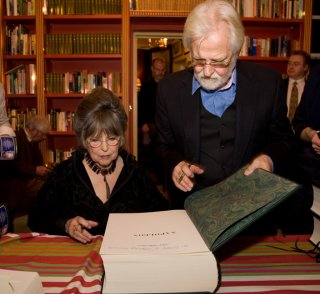 Non so a voi, ma a me non mi pare tutta questa allegria dalla foto. Forse è andata meglio poco dopo, quando Jan si è messo a fare il numero dei coltelli per aria.
Etichette: Eventi e notizie