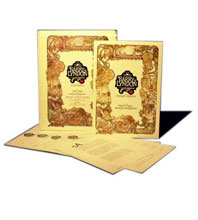 This section presents vintage material, available on the Web for the first time. Thanks to high resolution scans, you can read articles published on old magazines and hard-to-find paper resources, as well as take a look into Kubrick's promotional material distributed at the premieres or given to the press.

Tech notes
The size of the pop-up windows is determined by the resolution of the monitor in use: if pages are displayed on big monitors, better scans will be loaded and displayed in the pop-ups; if the monitor is small, images will be automatically resized and reduced in resolution in order to avoid useless scrolling bars and keep the text easily readable. In case of problems, such as too small images and tiny text, change the resolution settings for your monitor, quit the browser and load the pages again.
Copyright
Scans of the material are property of ArchivioKubrick: unauthorised copy, edit, publication, transfer, or transmission by any means, electronic or mechanical, of part or all the scans is prohibited without the webmaster's permission. The material is presented for educational purposes only and is copyrighted by its author, included in the scans or in the description. Scans, layout, php code and the name "Flip through" are © Filippo Ulivieri. Technical consultant Damnpuck.